ABOUT OUR WRAPS...
These are "BEST SELLERS" at Arnold's Way! We chop, we rock, and then we make rolls while happy music fills our souls! To our loyal customers, our WRAPS are too good to be true! We use NORI SEA VEGGIES instead of breads. The natural juices of the fine-shredded, chopped, and diced veggies whet the palate!
ARNOLD'S ORIGINAL WRAP for $5.75
Avocado, Carrot, Celery, Tomato, Zucchini, Greens & Green Olive
MEDITERRANEAN WRAP for $5.75
Tomato, Sweet Red Bell Pepper, Zucchini, Celery, Mushroom, Greens, Onion & Green Olive
SPRING GARDEN for $6.25
Broccoli, Cauliflower, Tomato, Carrot, Celery, Zucchini, Red Bell Pepper & Green Olives.
ABOUT OUR PATES...
These are ingenious concoctions of various nuts and seeds, blended together with veggies to create yummy, filling meals. Each PATE has a base of NORI SEA VEGGIES, Romaine, Zucchini, and Red Bells. Mixed into each PATE are Tomato, Celery, Carrot, Avocado, and Green Olives. The main ingredients of 3 favorite PATES are #1... Almond & Pumpkin, #2.. Almond & Walnut, and #3.. Almond & Sunflower Seed.
A FAVORITE SALAD DRESSING
Blended: Orange Juice, Celery, Pumpkin Seeds
A FAVORITE SALAD: "PICK 6"
Pick any 6 from list for $5.25: Tomato, Broccoli, Carrot, Beets, Red Bell Peppers, Zucchini, Cauliflower, Cabbage. Avocado is $1.oo extra.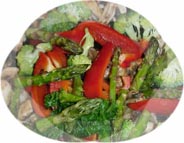 ABOUT OUR SOUPS...
Our soups are designed for your well-being! Each soup has a base of pure water, fresh-squeezed lemon juice, and Nori (a Sea Veggie rich in vitamin A, chlorophyll & live enzymes). Our SOUPS taste like... "Love in a Bowl!" Our SOUPS are RAW. No simmering or boiling. Each SOUP is made fresh when you order it. We are fast. The SOUPS are easy to make. And they will nourish and satisfy your hungry body!
Pick-Me-Up Soup for $4.25
Carrots, Celery, Broccoli & Red Cabbage
Tomato Soup for $4.25
Tomatoes, Carrots, Celery, Beets, Red Cabbage & Green Olives
Spring Medley Soup for $4.25
Broccoli, Red Peppers, Zucchini, Sunflower Seeds & Red Cabbage
Rich Greens Soup for $4.75
Avocado, Zucchini, Lettuce, Pumpkin Seeds & Broccoli
Raisin Date Soup for $4.5o
Raisins, Dates & Bananas Blended into a thick, rich soup that can sipped with a straw!
Gespacho Soup for $4.25
Sweet Red Bell Pepper, Celery, Zucchini, Tomato, Red Cabbage & a Little Bit of Ginger
Borcht Soup for $5.oo
Made in the tradition of the finest soups of The Old World... but so good for you! Almonds, Sunflower Seeds, Beets, Celery & Wheat Grass
Victoria's Note: Next Mailing, Arnold will serve up his SALADS and SMOOTHIES! We have to thank Arnold and his Crew of Happy Workers for all their service and for Banana Bars, too!